The main idea of ​​any store is to sell more.
A good solution is to add a quick order form on your website, using a WooCommerce Product Table Plugin.
Displaying items in this way can be a better way for customers to view and compare a list of products than the standard WooCommerce layout.
What the difference between standard WooCommerce store layout and using a WooCommerce Product Table as a order form?
By default, WooCommerce standard shop displays products by 3 or 4 products per row with large featured images, that occupy a lot of space on page. Also, product does not contain the full description, and customer have to click on it to get more information before purchase:
With WooCommerce Product Table, you can build a table to represent products in more useful, alternative way .
Products can be displayed in a structured table with a customizible image size to make layout as compact as you need and add any additional features: filters, full description, Multiple add to cart,  sort and search options and more.
WooCommerce Product table looks more advantageous compared to the standard WooCommerce store layout.
Table is more flexible, lets you display much more products and, what is really important, customers can select variations, filter the products, choose a quantity and add items to cart directly from the WooCommerce Product table to cart:
The layout of products gives first and main impression for your customers and has a big impact on sales and conversion rates.
That's why is so important to choose the right layout.
On this example you can see that Product table Plugin represent the products in more compact way, make much easy for customers to navigate and explore the shop.
Instant AJAX Add to Cart
Also, you can see the Woocommerce cart form, updating in real-time: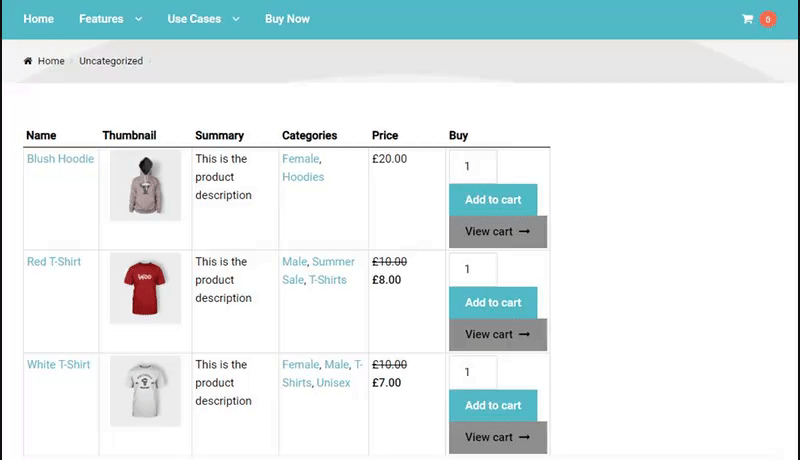 Try to add some products and watch the changes. Customers can then click straight to the Checkout. This cuts out several steps of the usual WooCommerce order process and helps to increase your sales.
If you sure that WooCommerce Product Table already is matching your needs, you have to get know about all the features come with plugin.